The Singapore Botanic Gardens is a 156-year-old tropical garden and is the only one in the world that opens from 5 a.m. to 12 midnight every day of the year.
The Botanic Gardens receives about 4.5 million visitors annually.
More than 10,000 species of flora is spread over its 82-hectares area, which is stretched vertically; the longest distance between the northern and southern ends is 2.5 km (1.6 mi). The Botanic Gardens receives about 4.5 million visitors annually. You can read more about its status as a UNESCO world heritage site
here
.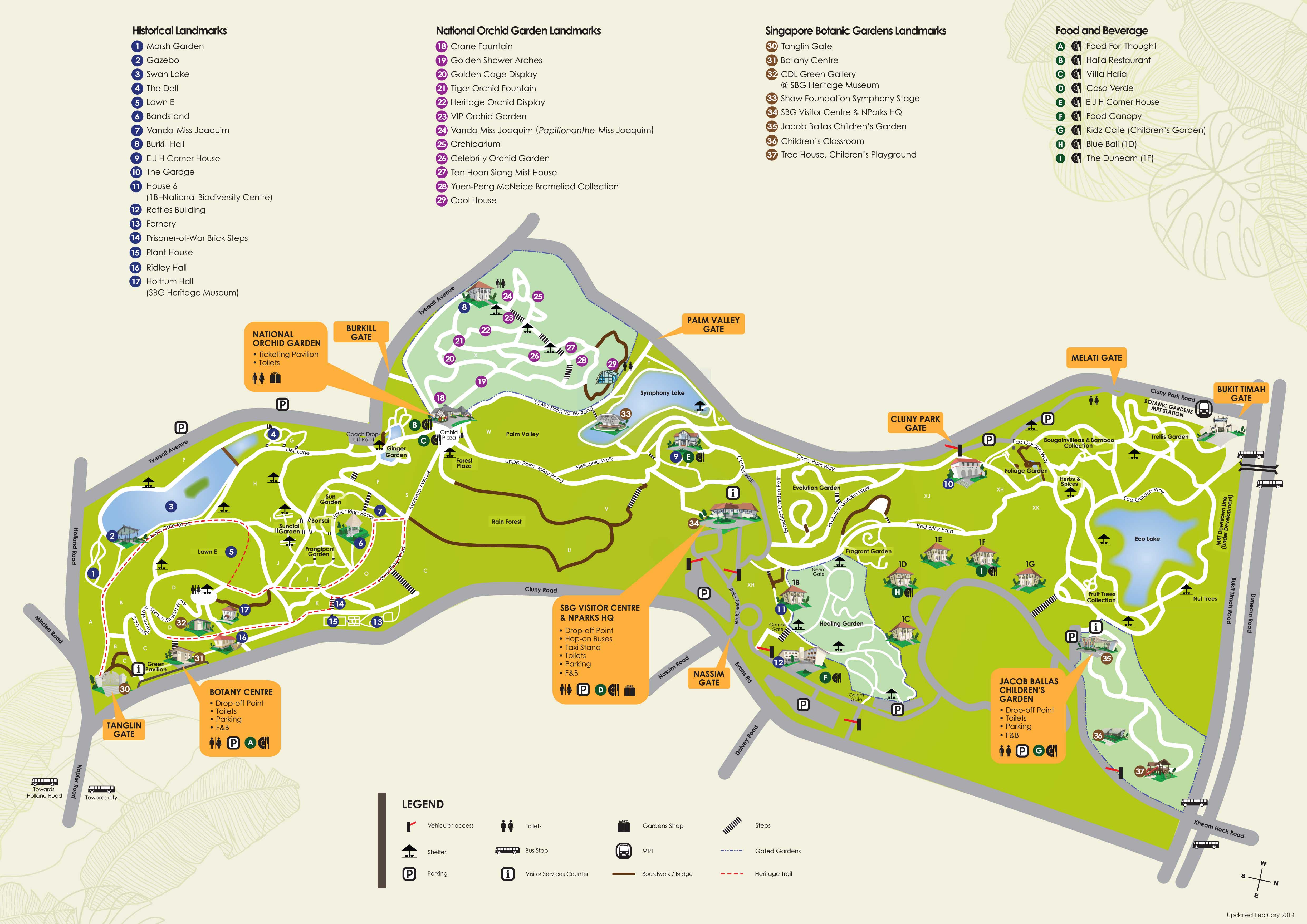 Map of Botanic Gardens
I visit the gardens regularly as they are one MRT stop away. The shops near the Visitors Center sell teas, jams, kaya, spice mixes for local dishes, and other items that are more curated than a typical museum's mugs and tea shirts. I sent a selection of teas and jams to friends and relatives in the states (mailed from the Tanglin post) to get an idea of the local tastes. They are beautifully packaged and more reasonable than jams or seas sold at specialty expat markets.
Near the shops are restaurants and cafes, because it wouldn't be very Singapore if you couldn't eat before, during, and after your adventure. As I like to say about the venues, Shop/Dine/Eat!
The National Orchid Garden is at the forefront of orchid studies and a pioneer in the cultivation of hybrids, complementing the nation's status as a major exporter of cut orchids. Aided by the equatorial climate, it houses the largest orchid collection of 1,200 species and 2,000 hybrids.
Orchid Garden
I was fascinated by the different types of orchids and their shapes. Some were intensely bright with saturated color and others were dark and moody.
Nicknamed "Pirate Orchid"
Bright Fuschia Orchid
Scarlet Orchid
Yellow Orchids
My sister bought me a beautiful book about the Orchids, so I will be updating this post with the proper names shortly.